Fr. John Domin
1923 - 2017
Memorial
Tualitin, OR
Tue 6/13 10:30 am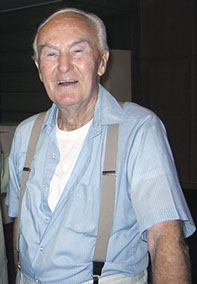 Fr. John Domin - the artist and his cards
There are 24 different, 5" X 7" all occasion cards - 12 portrait & 12 landscape. All are blank on the inside.
Cards cost $2.00 each or 3 for $5.00 including envelope/s.
Shipping is $2.99. Contact Paula to purchase cards.
The images on these twenty-four cards represent Fr. John Domin's early creative attempts at "healing art". Art, along with prayer, medicine and resurrected creativity, have facilitated John's ongoing recovery from severe depression and other ailments.
Fr. John Domin lives and creates art in Oregon. He was ordained a priest on March 25, 1950 and has served the Diocese of Western Oregon in various capacities for more than 62 years. Many
of his years as a priest were dedicated to teaching and creativity. Fr. John studied creative design at San Damiano Studio in Chicago; worked with Lloyd Reynolds, Oregon Calligrapher Laureate in the 1950s and 1960s; and taught art at Central Catholic High School. During his summers, he studied art with Corita Kent in Los Angeles and at the University of Washington. His travels abroad, focusing on sacred art and architecture prepared him for his role as Chairman of the Sacred Art Commission for the Archdiocese of Portland from 1958-1988. Fr. Domin design and remodeled over 100 churches and chapels in Oregon to conform to Vatical II. Several of his church designs won national recognition, including St. Joseph in Roseburg and St. Alice in Springfield. Many of the churches he designed are included on this web site.
Fr. Domin's homilies Easter House Video
© 2016 Sanctuary for Sacred Arts