Fr. John Domin
1923 - 2017
Memorial
Tualitin, OR
Tue 6/13 10:30 am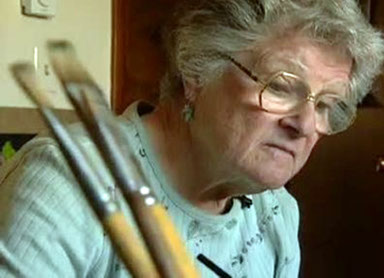 Sr. Mary, a Holy Names Sister for more than 50 years, is the creator of the nationally recognized Spirit of Mississippi series of original tissue paper artworks, greeting cards and prints.
She was invited to minister in Mississippi in September, 1991.
After 40 years in the convent, Sr. Mary was invited to join other religious sisters working to alleviate poverty in the Mississippi Delta, opening health clinics, working in education centers and responding to the needs of communities in small towns all over northern Mississippi. Her assignment was to teach art to the children after school.
Sr. Mary didn't have an art background and discovered there were no art supplies. Someone sent her colored tissue paper abd she had glue and some brushes; she began teaching the children and becoming inspired by them. Later she began doing her own art. According to those she taught and grew to love, Sr. Mary's art "captured the spirit of the people". Her experiences in the Mississippi Delta significantly impacted her life as well as her art.
Sr. Mary's prints and greeting cards are available at the Sisters of the Holy Names Gift Shop at Marylhurst.
The Art of Sr. Mary Bertoli Mary Bertoli on Oregon Art Beat
© 2016 Sanctuary for Sacred Arts