Fr. John Domin
1923 - 2017
Memorial
Tualitin, OR
Tue 6/13 10:30 am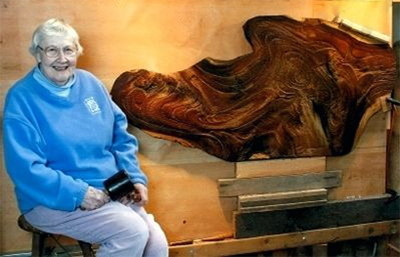 About Mary Lewis, Sculptor
The artist in front of a piece of her sculpture, holding one of her tools.
Artist Statement
To create is necessary to my being, regardless of obstacles or fame and monetary gain.
My intent is to interpret an idea, a feeling, perhaps an unappreciated form on nature by reducing it to the essence and working directly with the dictates of permanent materials in an honest, imaginative way.
My hope is to make significant contributions – liturgical and secular – that will delight, inspire or in some way touch the heart and uplift the soul.
74394 Wortman Road
Rainier, OR 97048 The art of Mary Lewis
© 2016 Sanctuary for Sacred Arts