Fr. John Domin
1923 - 2017
Memorial
Tualitin, OR
Tue 6/13 10:30 am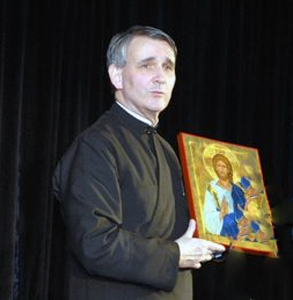 The artist holding one of his icons.
Fr. Jon began writing icons while working at Providence Medical Center when he realized that the chapel did not have a cross. He remedied the situation by asking the carpenters at the hospital to build a large cross which he painted in the Byzantine style. Fr. Jon liked the results but decided he wanted to learn more about writing icons.
He received his training from Mount Angel Seminary and has continues to write dozens of icons. Fr. Jon has found happiness in creating icons. Iconography for Fr. Jon is a culmination of everything he is interested in: color, art and saints, "who are his great friends". He feels his icons are helping the church and people. He feels that "people can't stand in front of an icon and pay attention and not enter into something".
frjon@msn.com Fr. Jon Buffington on Oregon Art Beat The art of Fr. Jon Buffington
© 2016 Sanctuary for Sacred Arts