Fr. John Domin
1923 - 2017
Memorial
Tualitin, OR
Tue 6/13 10:30 am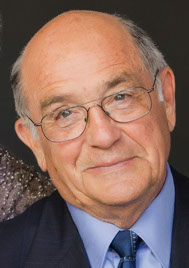 My work offers words with images - possibly the best way to address the human spirit - sometimes in a way that is painterly and sometimes more calligraphic, and never in a way that is perfect. My art is what it is - soft edged colors with hard edged lines, imperfectly made - because I am what I am, a person only hoping to make things well and express what I love. But it is all right to like art work if it is not yet even near perfect. Its like loving someone with a crooked nose.
Meanwhile, the calligraphy can be viewed but should also be read. See how the edged pen was used to create the writing. The tool defines the result and demands a respectful approach as the scribe learns to write at the edge of the edged pen.
It becomes a viewing instrument to see this particular artist in the rhythm of his hand, in the system of movement involving touch and non-touch. Everything else, the power of the literary forms, a well-made letter, is a bonus. Calligraphy is meditative - so for a view of the writer's soul, watch between the lines of writing to see what moved the scribe to write. Understand and accept the artist's point of view which made the work necessary. Bring the subject to life in yourself to know how he judged it for his new forms. It is all to be taken personally.
scribe@hevanet.com website: http://www.hevanet.com/scribe The art of Charles Lehman
© 2016 Sanctuary for Sacred Arts